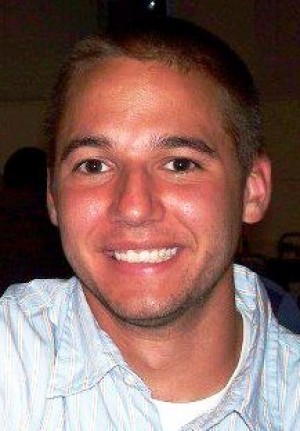 Walked away from group of friends after an eve of drinking. – Located deceased.
Andrew Ell, 22, of Warren County, was found face-down in a ravine on the North Service Road off Interstate 70 about one mile west of Highway 47. Ell's body was 16 feet below the guardrail in about four inches of water and three inches of mud, according to the Warren County coroner.
Authorities with the Major Case Squad said preliminary results indicate Ell drowned and that his death was an accident.
They said he had injuries consistent with a fall down the ravine. They aren't sure why he wasn't able to get out of the water at the bottom of the ravine, but said he had been drinking and that could have been a contributing factor.
The final results of an autopsy will take weeks, authorities said.
Ell may have been trying to get home after eating at a fast-food restaurant, family members say.
Ell's mother, Cathy Ell of St. Paul, said her son had been out with friends on Friday night. They went to Jack in the Box around midnight and then drove across the street to eat the food in the parking lot of Burger King, she said.
Her son left to use the restroom and never returned, she said.
"The other people who were with him got concerned and went to look for him," she said. "They tried to retrace his steps and checked all the places that were still open but couldn't find him."
Ell said her son had left his cell phone in the truck he was riding in, so he couldn't call anybody.
"We're assuming that he was attempting to walk home," she said. "One of the friends called me about 10:30 Saturday morning and asked me if Andrew was at our house. I called 911."
She said her brother, niece and nephew had found her son's body.
Warren County Coroner Roger Mauzy pronounced Ell dead at 1:30 p.m. Sunday. He said a guardrail separates the service road from the ravine where Ell's body was found. He said the road was poorly lit.
Mauzy said Ell's body showed no major visible of signs of trauma. Ell's driver's license listed a St. Paul address but that he was living with friends in Warren County, Mauzy said.
Ell described her son as vivacious, fun, close to his family and a big tease.
"You couldn't stay mad at him because he would say things like 'Oh, Mom, your hair looks really nice today', and just totally diffuse the situation," she said.
Andrew Ell was employed as a field service technician with CK Power in Creve Coeur. He was a graduate of Linn State Technical College and St. Dominic High School in O'Fallon.
A wake for Ell will be held from 4 to 8 p.m. Wednesday at Baue Funeral and Memorial Center, 3950 West Clay in St. Charles. A funeral Mass will be said at 10 a.m. Thursday at St. Paul Catholic Church in St. Paul.
"He was a good boy; he's going to be missed so much," Cathy Ell said.
Anyone with information on Ell's whereabouts before he disappeared is asked to call the Major Case Squad at 636-456-2208.
News Source Link