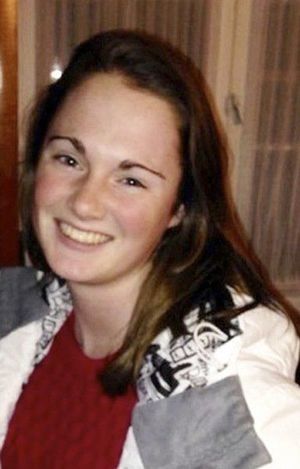 University of Virginia sophomore Hannah Graham, 18, disappeared Sept. 13 after a night out with friends. The remains were found Oct. 18 about 12 miles from the Charlottesville campus, in a heavily wooded area of Albemarle County that is home to rolling hills and horse farms.
The state Medical Examiner's office confirmed that the remains were Graham's, the Albermarle County Police Department said in a statement Friday.
The man Graham was last seen with, 32-year-old Jesse Leroy Matthew Jr., has been charged with abduction with intent to defile Graham.
Albemarle County Commonwealth's Attorney Denise Lunsford said in a statement that the focus of the investigation now is to determine "what charges will be brought and the appropriate time to make those charges."
Matthew's attorney, Jim Camblos, said in a voicemail greeting that he is not answering questions about the case.
Graham's remains were discovered roughly 6 miles from where the body of 20-year-old Virginia Tech student Morgan Harrington was found after she vanished in 2009. Police have said forensic evidence connects Matthew to Harrington's killing, which in turn is linked by DNA to a 2005 sexual assault in northern Virginia. Matthew has been charged in the 2005 case.
Her disappearance prompted many University of Virginia students to begin walking in pairs or groups at night. Also, the university expanded a ride service for its students.
Graham met friends at a restaurant for dinner Sept. 12 before stopping by two off-campus parties. She left the second party alone and eventually texted a friend saying she was lost, authorities said.
In surveillance video, she can be seen walking unsteadily and even running at times, past a pub and a service station and then onto a seven-block strip of bars, restaurants and shops.
Matthew was an operating room technician at the university's hospital. He was also a former college football lineman and sometimes cab driver.
Friends have said they were shocked the "gentle giant" — he's 6-foot-2 and weighs 270 pounds — could be suspected of such violence.
Matthew was co-captain of his high school football team and continued to play football in college, although he dropped out of two universities following accusations of sexual assault against him. He was never charged. Officials in both cases said the alleged victims declined to press charges.
The victim in the 2005 rape in the Washington, D.C., suburbs is cooperating with authorities, Fairfax County Commonwealth's Attorney Ray Morrogh has said.
///////////// Media: http://www.eagletribune.com/news/remains-belong-to-missing-virginia-student/article_2e7722fa-9bcd-5925-a700-e908de85cb5d.html?mode=jqm. ///
Previous: CHARLOTTESVILLE, Va. – Police released new surveillance pictures of Hannah Elizabeth Graham, as the search continued Monday night for the teen, who they believe went missing on her way home from a party. The second year University of Virginia student was last heard from on September 13 when she sent a text to friends at about 1:20 a.m. Saturday. Police said Graham left alone from the party at 14th and Wertland Streets, in an area not from her house which she knew pretty well. Around 45 minutes later police said Hannah texted friends with the message that she was lost in the same area. Police said she was "fairly well intoxicated." "On Sunday, her friends and family realized that none of them had seen or had contact with her since Friday night and a call was placed to the Emergency Communications Center by her friends, reporting her missing," said Charlottesville Police Captain Gary Pleasants. Sophia Lamrissi-Garcia spent last Friday night partying not far from her friend Hannah, at one of her sorority events. She thought about walking home alone but she opted not to, she said. "Don't know why, but I decided to take a cab." Police said Graham decided to find her way home, alone. These pictures released by police are of Graham in her apartment building, around 9:30 p.m., the Friday she went missing. At the request of her family the address is not being released. "At that point in the night you think you're doing the right thing walking alone but it's not always the right decision to make," Sophia said. The police presence and search team have startled students, some who say they are having a difficult time coming to grips with Graham's disappearance. "I saw her on Thursday…she seemed really happy," said neighbor Sam Blum, who is also on the ski team with Graham."…Downtown Charlottesville, I wouldn't expect that." The Charlottesville Police department, Albemarle County Police department and Virginia State Police are all searching for Graham. Police described the 18-year-old Northern Virginia native as a 5'11" white female with a skinny build. She has blue eyes, light brown hair and freckles. Graham was last seen wearing a black crop top with mesh cut outs. Anyone with information about Graham was asked to call Charlottesville Police Department at 434-970-3280 or CrimeStoppers at 434-977-4000. MEDIA SOURCE: http://wtvr.com/2014/09/15/police-release-new-pictures-of-missing-u-va-student-hannah-elizabeth-graham/